| | |
| --- | --- |
| About Bemrose | |
| Honey Mead | |
| Liqueurs | |
| Recipes | |
BEMROSE ESTATE -
Your first choice in premium liqueurs -
Your first choice in mead
First mead awarded a national and international gold medal - 1995; 1997
First sparkling mead on the New Zealand market - Moonlight Gold Sparkling Dessert mead 1994
First mead company in Wellington - 1993
First Premium Reserve mead on the NZ market - Excaliber 2012
Bemrose Estate was first established to produce premium quality honey mead. We achieved this, winning first silver then gold medals at national and international competition.
The range of honey meads has expanded since, including the first sparkling meads on the New Zealand Market.
These top quality meads were then used to produce mead liqueur, then extended to mead-based Butterscotch, Amaretto, and a Honey/Ginger liqueur.
In early 2005, we began development of a range of superior quality spirit based shaker/cocktail liqueurs. These are now sold under the Wildfern label.
We also produced Café Royale -a coffee and honey mix. This is now sold under the Wildfern label.
We are a long-standing member of the NZ Fruit Wine and Cider Makers Association, which Mark chaired from 2007 to 2009.
The Founders
Mark Atkin, Managing Director and Winemaker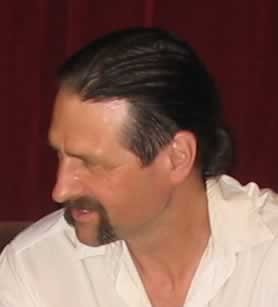 Mark started making home made beer and wine from the age of 14, developing a special interest in honey mead. He has a discerning palate, and is "a bit of a perfectionist" contributing to his insistence on the highest standards of balance, fullness of flavour, and finesse in all Bemrose Estate's superior range of products.
Mark has a BSc in Chemistry (Victoria University), and has studied winemaking at Massey University.
He also has a management/productivity qualification from CIT.
He has worked as a carpenter/cabinetmaker/joiner, and in management and consultancy in textiles, joinery, and banking.
He also has a law degree from Victoria University, and is admitted as a Barrister and Solicitor.

Graham Atkin, founding Director

Graham has spent his whole working life in sales, first as a rep, and later as Wellington Area Sales Manager for Feltex. He is perhaps better known for his work with the Wellington Rugby Union, of which he was chairman for many years, and subsequently with the New Zealand Rugby Union. The company name, Bemrose, comes from his mother's side of the family, dating back to the 1500's in England.
Contact Details
Wellington
Bemrose Estate Head Office/Wellington
Phone/fax: (04) 565 1056
P.O. Box 9804
Marion Square
Wellington.
Mark Atkin, Managing Director
Return to Top